PENTAX A-series binoculars
Two compact, easy-to-carry models,
incorporating ED glass elements for excellent chromatic aberration compensation;
harmonizing outstanding viewing performance with superb operability
TOKYO, April 13, 2023-RICOH IMAGING COMPANY, LTD. is pleased to announce the launch of two compact, lightweight, roof-prism binoculars, both of which harmonize outstanding viewing performance with superb operability: the PENTAX AD 7x32 ED and PENTAX AD 10x32 ED.
These new models are the latest additions to the PENTAX A-series binocular lineup, renowned for its outstanding viewing performance in a compact, lightweight body. In addition to a variety of lens coatings that are identical to those applied to upper-class models, they also incorporate -- for the first time in A-series models -- ED (Extra-low Dispersion) optical elements for effective compensation of chromatic aberration to deliver a clear view of the image field rivaling that of the upper-class models, while assuring superb operability.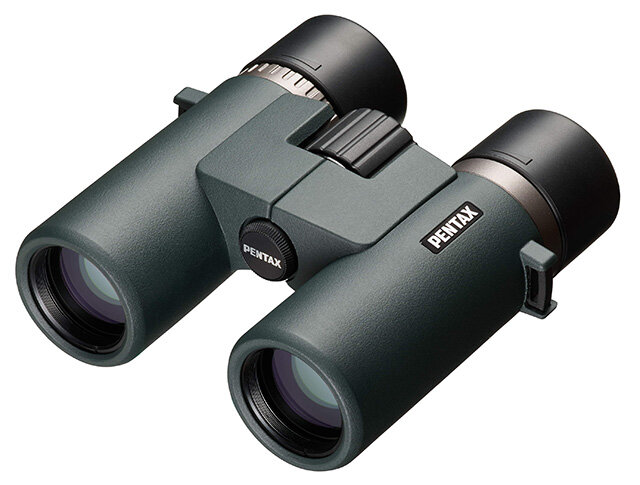 AD 7x32 ED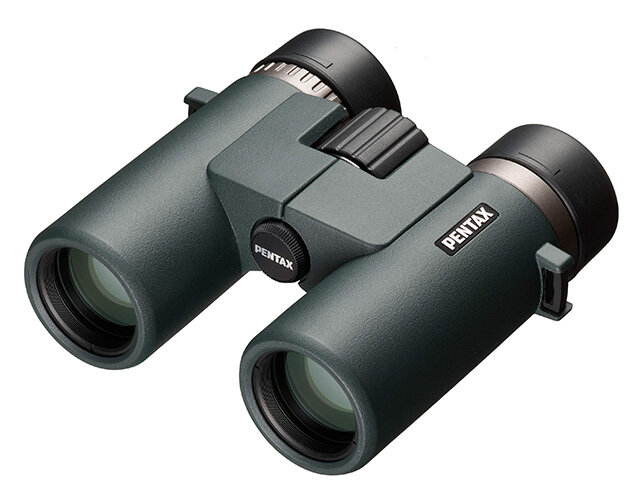 AD 10x32 ED
Main Features of the PENTAX AD 7x32 ED and AD 10x32 ED
1. Bright, clear viewing
As with PENTAX's top-end Z-series models, these new models provide a bright, clear view of the subject with minimal glare and ghost images, thanks to the application of a full multi-coating process to all lens surfaces, and a special coating designed to optimize light transmittance.
2. ED optical elements
As the first models in the PENTAX A series to incorporate ED (Extra-low Dispersion) optical elements for effective compensation of chromatic aberration, these binoculars deliver a sharp, high-contrast, blur-free image.
3. Compact, lightweight design
While incorporating objective lenses with a 32-millimeter diameter to assure superb operability, these models are designed to be compact and lightweight for easy carrying in a wide range of applications -- from bird watching and nature observation to the viewing of sports events and concerts.
4. Other features
• Exterior housing made of thermoplastic elastomer resin to improve holding comfort and prevent accidental slippage
• Easy-to-operate diopter adjustment mechanism with a nonslip, ring-type adjuster
• Waterproof construction equivalent to JIS Class 6 standards for dependable use in adverse weather conditions*
• Nitrogen-filled design to prevent interior lens surfaces from fogging due to sudden temperature changes
• Extendible eyepieces for effortless shift between in-use and storage positons
• Easy mounting on a tripod, in combination with the optional TP-3 Tripod Adapter
* These models cannot be used for underwater viewing.
Specifications
Model
AD 7x32 ED
AD 10x32 ED
Type
Roof prism, Center focusing, waterproof
Magnification
7x
10x
Effective diameter of
objective lens
32mm
Real field of view
7.8°
6.0°
Field of view at 1000m
Field of view at 1000 yards
136m
1227 ft.
105m
942 ft.
Exit pupil aperture
4.68mm
3.2mm
Eye relief
18.2mm
15mm
Relative brightness
21.9
10.2
Focusing range
3.0m - ∞
9.0 ft. - ∞
Interpupillary
distance adjustment
56~75mm
Dimension
Height
128.6mm
5.06 inch
119.6mm
4.71 inch
Width
129.6mm
5.10 inch
129.6mm
5.10 inch
Thickness
49.8mm
1.96 inch
49.8mm
1.96 inch
Weight
585g
20.7 oz.
530g
18.7 oz.
Waterproof
1 m depth of water (equivalent to JIS class 6), Nitrogen filled
Accessories
Objective lens caps, Eyepiecelens cap, Case, Neck strap
Objective lens caps, Eyepiecelens cap, Case, Neck strap
| About Ricoh |
Ricoh is empowering digital workplaces using innovative technologies and services that enable individuals to work smarter from anywhere.

With cultivated knowledge and organizational capabilities nurtured over its 85-year history, Ricoh is a leading provider of digital services, information management, and print and imaging solutions designed to support digital transformation and optimize business performance.

Headquartered in Tokyo, Ricoh Group has major operations throughout the world and its products and services now reach customers in approximately 200 countries and regions. In the financial year ended March 2022, Ricoh Group had worldwide sales of 1,758 billion yen (approx. 14.5 billion USD).

For further information, please visit www.ricoh.com