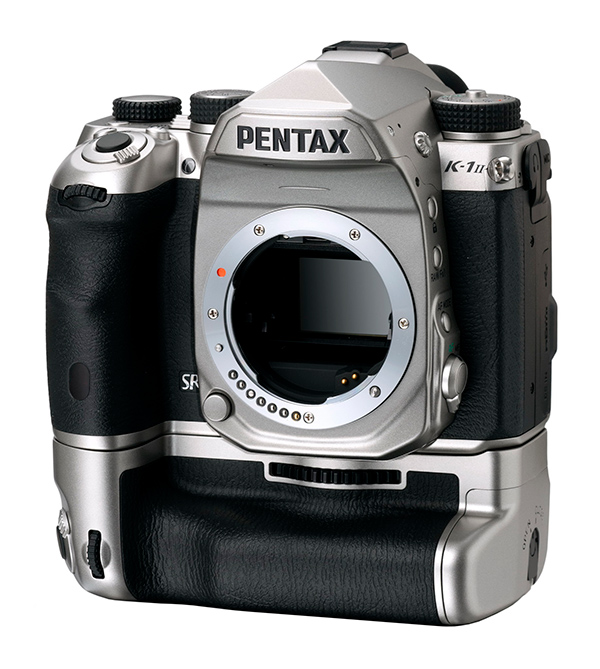 TOKYO, August 27, 2020,-RICOH COMPANY, LTD. and RICOH IMAGING COMPANY, LTD. are pleased to announce the launch of the PENTAX K-1 Mark II Silver Edition. This special silver-colored version of the PENTAX K-series digital SLR flagship model will be available in a limited quantity of 1,000 units worldwide.
Designed for users who are particular about the color and design of their photographic equipment, this limited-edition model was developed to enhance the fun and pleasure of owning a special camera, and to inspire even more active involvement in the photographic process. The camera also features a couple of black parts (the shutter release button and the hot shoe), so users can enjoy different color combinations with interchangeable lenses, both silver or black in color.
Main features of the PENTAX K-1 Mark II Silver Edition
• The camera body and the detachable battery grip feature a high-grade, fine-textured silver coating, with an exclusive silver SR badge placed on the front of the camera body.
• The camera's shutter release button and hot shoe, as well as the battery grip's shutter release button, feature black parts, so the camera is coordinated with either black or silver lenses.
• Each camera has been given a unique serial number, from 0000001 to 0001000, to further express its exclusiveness.
• Two exclusive batteries are included in a product package to simultaneously power both the camera body and the battery grip.
• This special camera and its accessories come in an exclusively designed product box.
• The camera body comes with the latest firmware version pre-installed.
Note: The camera body's features and specifications are identical with those of the standard model, except for the firmware.
| About Ricoh |
Ricoh is empowering digital workplaces using innovative technologies and services enabling individuals to work smarter. For more than 80 years, Ricoh has been driving innovation and is a leading provider of document management solutions, IT services, commercial and industrial printing, digital cameras, and industrial systems.

Headquartered in Tokyo, Ricoh Group operates in approximately 200 countries and regions. In the financial year ended March 2020, Ricoh Group had worldwide sales of 2,008 billion yen (approx. 18.5 billion USD).
For further information, please visit www.ricoh.com/