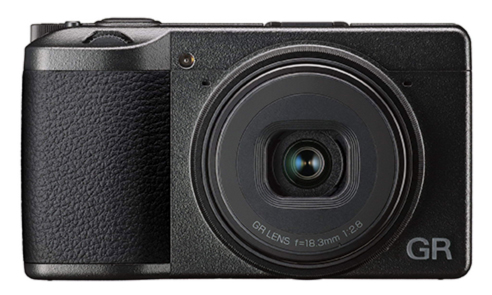 TOKYO, September 25, 2018 -RICOH COMPANY, LTD. and RICOH IMAGING COMPANY, LTD. are pleased to announce a preview showing of the RICOH GR III camera at Photokina 2018 - the world's largest, full-scale trade fair of photographic and imaging products, to be held from September 26 to 29 in Cologne, Germany. The new camera has been in the process of development as the latest model of the RICOH GR series, which features a lineup of high-end digital compact cameras combining exceptional image quality with a compact, lightweight body ideal for snapshot photography.
Over a history of more than 20 years, the RICOH GR series has always kept its basic concept of optimizing the essential values of a camera - high image quality and snapshot capability and portability - while at the same time making the changes and refinements needed to meet emerging needs. Because of this, GR-series models have been preferred by a great many photographers, particularly professionals and highly experienced amateurs.
Currently under development, the RICOH GR III inherits the basic GR-series concept, but it incorporates totally new devices in its main components, including a newly designed lens, a new image sensor, and a new imaging engine. These are designed to further upgrade image quality, strengthen many of the functions and improve the user interface.
Designed to be the ultimate snapshot camera, the RICOH GR III is a totally new breed of GR camera, one that will give the user new and different creative possibilities. We hope Photokina 2018 visitors will enjoy their first look at this new-generation GR-series model.
Overview of the product under development
| Model name | Launch date |
| --- | --- |
| RICOH GR III | Scheduled to be launched in Early, 2019 |
* The designs and specifications are identical to those first announced publicly about the camera's development, and are subject to change without notice.
Major Specifications
Lens
Lens Construction
6 elements in 4 groups (2 aspherical lens elements)
Focal Length, Aperture
18.3mm (Approx. 28mm in 35mm equivalent focal length), F2.8~F16
Image Capture Unit
Image Sensor
Type: Primary color filter CMOS. Size: 23.5mm x 15.6mm
Effective Pixels
Approx. 24.24 megapixels
Sensitivity (Standard output)
Auto (ISO Auto Lower/Upper Limit and Minimum Shutter Speed can be set), Manual: ISO100~To be finalized
Image Stabilization
Sensor-shift shake reduction (SR)(3-axis)
AA Filter Simulator
Moiré reduction using SR unit (Off, Low, High)
Dust Removal
Image sensor cleaning using ultrasonic vibrations "DR II"
File Formats
Still Image
File Format: RAW (DNG) 14bit, JPEG (Exif 2.3), DCF2.0 compliant
Color Space: sRGB、AdobeRGB
Recorded Pixels:
【3:2】L(24M:6000x4000), M(15M:4800x3200), S(7M:3360x2240), XS(2M:1920x1280)
【1:1】L(16M:4000x4000), M(10M:3200x3200), S(5M:2240x2240), XS(1.6M:1280x1280)
Movie
File Format: MPEG4 AVC/H.264 (MOV)
Recorded Pixels: Full HD (1920x1080, 60p/30p/24p), Sound: Built-in stereo microphone
Recording Time: Up to 25 minutes or 4GB; automatically stops recording if the internal temperature of the camera becomes high.
Storage Medium
Internal Memory (Approx. 2GB), SD/SDHC/SDXC Memory Card (Conforms to USH-I standards)
Focus
Type
Hybrid AF (Image plane phase-matching and Contrast detection)
Focus Mode
Auto-area AF, Zone AF, Select AF, Pinpoint AF, Tracking AF, Continuous AF, MF, Snap, ∞
Face Detection
ON, Use only in Auto-area, OFF
Focus Range (From lens face)
Normal: Approx. 0.1m~∞, Macro Mode: Approx. 0.06m~0.12m
Exposure
Exposure Mode
Program AE, Aperture Priority AE, Shutter Priority AE, Manual Exposure
Metering Mode
Multi-segment, Center-weighted, Spot, Highlight-weighted
Shutter Speed
1/4000 sec. - 30 sec. (Limit by aperture setting F2.8: 1/2500 sec, F5.6 or greater: 1/4000 sec.)
Timed Exposure (10sec. - 20min.), Bulb, Time
EV Compensation
Still Image: ±5EV, 1/3EV steps, Movie: ±2EV, 1/3EV steps
ND Filter (2EV)
AUTO, ON, OFF
White Balance
Auto White Balance, Multi Auto White Balance, Daylight, Shade, Cloudy, Fl. - Daylight Color, Fl. - Daylight White, Fl. - Cool White, Fl. - Warm White, Tungsten, CTE, Manual White Balance, Color Temperature
Fine Adjustment
Adjustable ±14 steps on A-B axis or G-M axis
Drive Mode
Drive
Single Frame Shooting, Continuous Shooting, Bracketing, Multi-exposure, Interval Shooting, Interval Composite
Self-timer
10 sec., 2 sec., OFF
Shooting Functions
Crop
35mm, 50mm, OFF
Image Control
Standard, Vivid, Monotone, Soft Monotone, Hard Monotone, Hi-Contrast B&W, Positive Film, Bleach Bypass, Retro, HDR Tone, Custom1, Custom2

Adjust parameters: Saturation, Hue, High/Low Key Adjustment, Contrast, Contrast (Highlight), Contrast (Shadow), Sharpness, Shading, Clarity, Toning, Filter Effect, Grain Effect, HDR Tone Level (Adjust parameter varies depending on the selected image setting)
Dynamic Range Correction
Highlight Correction, Shadow Correction
Noise Reduction
Slow Shutter Speed Noise Reduction, High-ISO Noise Reduction
Display
Display magnification (4x, 16x), Grid display (4x4 Grid, 3x3 Grid), Histogram, Bright area warning, Electronic Level
Playback Functions
Playback View
Single frame, Multi-image (20, 48 frames), Display magnification (up to 16x, 100% view and Quick Zoom view available), Histogram (Y histogram, RGB histogram), Grid display (3x3 Grid, 4x4 Grid), Bright area warning, Auto Image Rotation,
Base Parameter Adjustment
Brightness, Saturation, Hue, Contrast, Sharpness
RAW Development
Aspect Ratio, JPEG Recorded Pixels, Color Space, White Balance, Image Control, Peripheral Illumination Correction, Sensitivity, High-ISO Noise Reduction, Shadow Correction
Edit
Resize, Cropping, Levels Adjustment, White Balance Adjustment, Color Moiré Correction, Movie Edit (Cut), Movie Edit (Divide)
LCD Monitor
Type
3.0 inch TFT color LCD (aspect ratio 3:2)、Approx. 1037K dots, Wide viewing angle, Air-gapless tempered glass
Touch Screen
Capacitive sensing method
Adjustments
Brightness, Saturation, Blue/Amber, Green/Magenta, Outdoor View Setting: ±2 Steps
Wireless LAN
Standards
IEEE 802.11b/g/n (HT20) (Wireless LAN standard protocol)
Frequency (Center Frequency)
2412MHz~2462MHz (1ch~11ch)
Security
Authentication: WPA2, Encryption: AES
Interfaces
USB Type-C
Battery Recharge/Power Supply (Optional AC Adapter required), Data Transfer: MTP, Video output: DisplayPort over USB-C (DisplayPort Alternative Mode)
Hotshoe
Compatible with P-TTL Auto Flash
Flash Mode: Flash On, Flash On+Red-eye, Slow-speed Sync, Slow Sync+Red-eye
Flash Exposure Compensation: -2.0 -+1.0
Lens adapter pin
Available
Power Supply
Battery Type
Dedicated Rechargeable Battery
Battery Life
To be finalized
Dimensions and Weight
Dimensions
Approx. 109.4(W)×61.9(H)×33.2(D)mm (excluding protrusions)
Weight
Approx. 257g (Included dedicated battery and SD memory card), Approx. 227g (Body only)
Included Accessories
Dedicated Rechargeable Battery, USB Power Adapter, Power Plug, USB Cable, Handstrap
Language
English, French, Germany, Spanish, Portuguese, Italy, Dutch, Danish, Swedish, Finnish, Polish, Czech, Hungarian, Turkey, Greek, Russian, Thai, Korean, Simplified Chinese, Traditional Chinese, Japanese
| About Ricoh |
Ricoh is empowering digital workplaces using innovative technologies and services enabling individuals to work smarter. For more than 80 years, Ricoh has been driving innovation and is a leading provider of document management solutions, IT services, commercial and industrial printing, digital cameras, and industrial systems.
Headquartered in Tokyo, Ricoh Group operates in approximately 200 countries and regions. In the financial year ended March 2018, Ricoh Group had worldwide sales of 2,063 billion yen (approx. 19.4 billion USD).
For further information, please visit  www.ricoh.com/