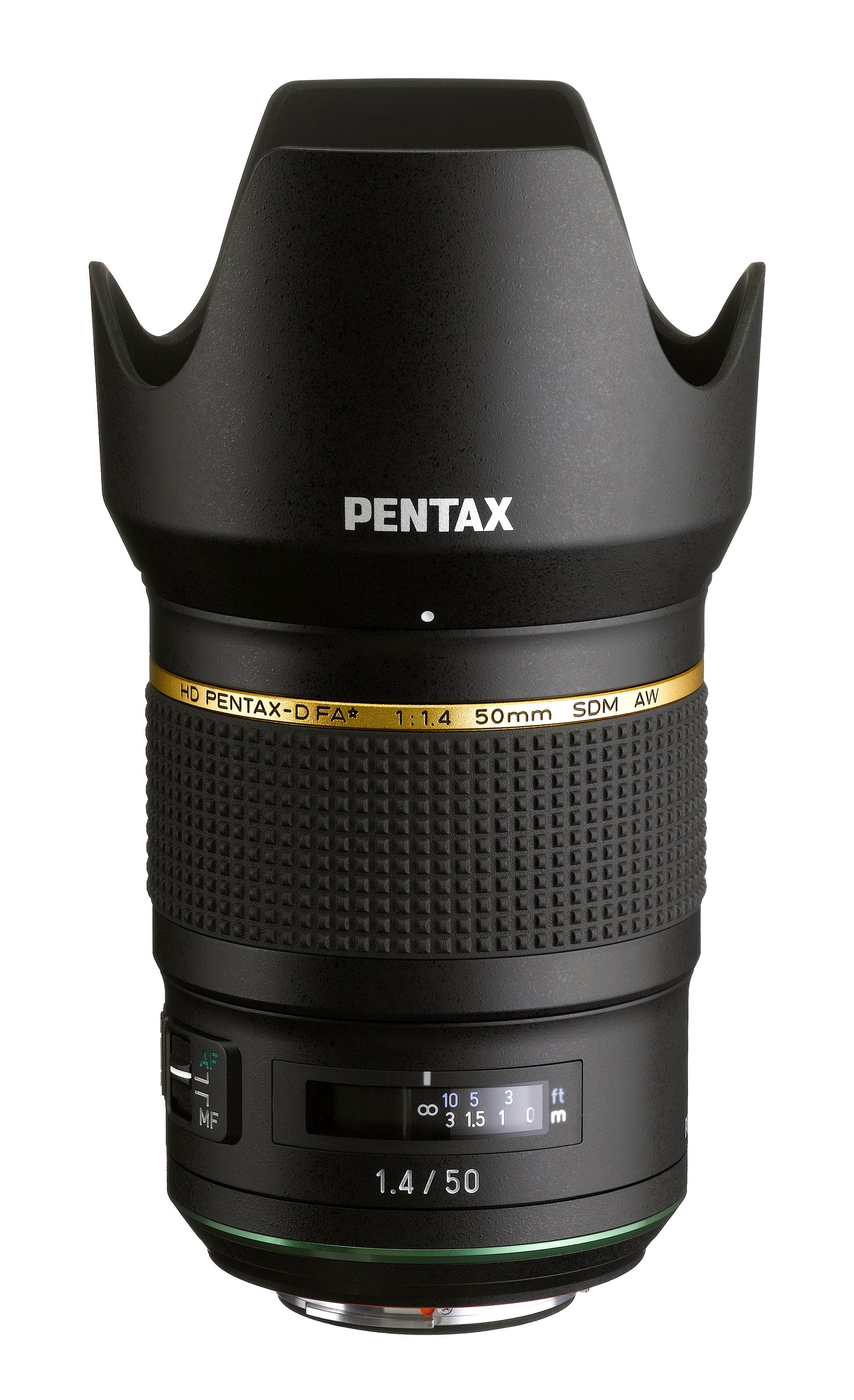 TOKYO, June 29, 2018-RICOH COMPANY, LTD. and RICOH IMAGING COMPANY, LTD. are pleased to announce the launch of the HD PENTAX-D FA★50mmF1.4 SDM AW. This large-aperture, single-focus standard lens is the newest model in the acclaimed PENTAX Star (★) series -- the lineup boasting the best imaging performance of all PENTAX lenses for use with K-mount digital SLR cameras.
For the new lens, PENTAX conducted an extensive review of its in-house standards for the top-of-the-line Star series, demanding the maximum compensation of various aberrations in order to deliver the highest image quality. PENTAX also designed the lens to assure excellent imaging performance with all compatible camera bodies -- even when mounted on next-generation digital SLR cameras which will feature image quality and performance even higher than existing models. The new lens delivers the superb imaging power demanded of a new-generation, high-performance Star-series lens, assuring exceptional resolving power from the center to the edges of the image field, even when set to open aperture. Thanks to PENTAX-original lens coating technologies -- including the latest Aero Bright Coating II assuring exceptionally low reflectance, and the high-grade HD Coating -- it produces extra-sharp, high-contrast images free of flare and ghost images. Its dustproof, weather-resistant body also makes it extremely dependable and durable for shooting in demanding outdoor conditions.
Main Features of the new HD PENTAX-D FA★50mmF1.4 SDM AW
1. New-generation, high-performance Star-series lens with large F1.4 maximum aperture
This lens has been developed as a new-generation member of the high-performance Star series -- a lineup designed to deliver extra-clear, high-contrast images with edge-to-edge sharpness by compensating various aberrations to a minimum. After conducting an extensive review of the Star-series standards, PENTAX has designed this lens to assure greatly improved resolving power, looking ahead to its use with more advanced, next-generation camera bodies. It provides exceptionally high imaging performance even at open aperture, in addition to a beautiful bokeh (defocus) effect and an outstanding image rendition at close ranges. Developed as the first model of the new-generation Star-series lenses, this large-aperture standard lens boasts an extra-large F1.4 maximum aperture, useful with many different subjects in a range of applications, including portraiture with an effectively defocused background, and handheld shooting of indoor scenes.
2. State-of-the-art optical technology
The lens is treated with PENTAX-developed Aero Bright Coating II* -- a lens-coating nanotechnology employing a super-low refractive film fabrication process. By coupling this advanced lens coating with the high-grade, multi-layer HD Coating** -- which reduces average reflectance in the visible ray spectrum to less than 50% of conventional multi-layer coatings -- this lens effectively reduces flare and ghost images to a minimum even in demanding lighting conditions such as backlighting. By incorporating three super-low dispersion glass elements and one aspherical element in its optics, it effectively compensates chromatic and spherical aberrations, and produces brilliant, high-contrast images with edge-to-edge sharpness. Since it minimizes distortion even at a focusing distance of approximately one meter, it produces crisp, distortion-free images over the entire focusing range, from the minimum focusing distance to infinity.
* A state-of-the-art, PENTAX-original lens coating technology developed from nanotechnology. It applies a silica aerogel layer with a uniform porous structure over a regular multi-coating layer to reduce surface reflections across a wide wavelength range and produce crisp, high-quality images.
**HD stands for High Definition.
3. Dustproof, weather-resistant construction
Developed as an AW (All Weather) model, this lens features a dependable dustproof, weather-resistant structure with eight special seals to prevent the intrusion of water and dust into the lens interior. When paired with a PENTAX weather-resistant digital SLR camera body, it forms a durable, reliable digital imaging system that performs superbly in demanding shooting settings -- even in rain or mist, or at locations prone to water splashes or spray.
4. Newly developed ring-type SDM
This lens features a newly developed ring-type SDM (Supersonic Direct-drive Motor), which generates as much as 7.5 times the torque of the conventional SDM installed in existing lenses. Thanks to this enormous driving power, the lens assures a smooth, high-speed shift of the heavy, multi-element rear lens group during focusing operation.
5. Other features
Nine-blade, round-shaped diaphragm to produce a natural, beautiful bokeh (defocus) effect up to F2.8 aperture setting, while minimizing the streaking effect of point light sources
A minimum focusing distance of 40 centimeters, effective in capturing images with a defocus effect
Electromagnetic diaphragm-control mechanism,* for flawless, high-precision exposure control during movie recording
SP (Super Protect) coating to keep the front surface free of dust and spots
* This mechanism is available when the lens is mounted on a K-1 Mark II, K-1, K-3 II, K-3, KP, K-70, K-50, K-S2 or K-S1 camera body.
Specification
HD PENTAX-D FA★50mmF1.4 SDM AW
Focal Length
50mm
Equivalent to 76.5mm in 35mm format
(when attached to PENTAX APS-C size DSLR cameras)
Maximum Aperture
F1.4
Minimum Aperture
F16
Lens Construction
15 elements in 9 groups
Angle of View (Diagonal)
47.0°
Mount
KAF4
Minimum Focusing Distance
0.4m (1.3ft.)
Maximum Magnification
0.18x
Filter Diameter
72mm
Diaphragm Control
Electromagnetic diaphragm
Fully automatic
Number of Diaphragm Blades
9
Rounded diaphragm (50mm:F1.4-F2.8)
Aperture Ring
N/A
Tripod Mount
N/A
Lens Hood
PH-RBB72 (included)
Lens Cap
O-LC72 (included)
Lens Case
S100-140 (included)
Maximum Diameter x Length
approx. 80mm x 106mm (approx. 3.1in. x 4.2in.)
Weight
approx. 910g / with hood approx. 955g
(approx. 32.1 oz./ with hood approx. 33.7oz.)
Temperature
-10°C~40°C (14°F~104°F)
Humidity
85% or less (no condensation)
| About Ricoh |
Ricoh is empowering digital workplaces using innovative technologies and services enabling individuals to work smarter. For more than 80 years, Ricoh has been driving innovation and is a leading provider of document management solutions, IT services, commercial and industrial printing, digital cameras, and industrial systems.
Headquartered in Tokyo, Ricoh Group operates in approximately 200 countries and regions. In the financial year ended March 2018, Ricoh Group had worldwide sales of 2,063 billion yen (approx. 19.4 billion USD).
For further information, please visit  www.ricoh.com/