360-degree camera to enjoy spherical images in a single shot
"RICOH THETA SC Type HATSUNE MIKU" Will Be Released
~A limited model in collaboration with "Hatsune Miku"~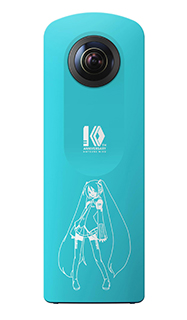 illustration by KEI © Crypton Future Media, INC. www.piapro.net

TOKYO, August 8, 2017 -- Ricoh announced today the release a collaboration model 360-degree camera "RICOH THETA SC Type HATSUNE MIKU" for a limited time in sales on orders system, to celebrate the 10th anniversary of "Hatsune Miku".
The "RICOH THETA SC Type HATSUNE MIKU" is based on "RICOH THETA SC" (released in October 2016), and in addition to the camera being a special version with an official "Hatsune Miku" illustration which is specially drawn by the illustrator KEI on a blue green body, the theme color for Miku, it has been elaborated in details by adopting the shutter sounds exclusive for this model. Images shot in 360-degrees can also be imported into the dedicated 360-degree image editing application "RICOH THETA Type HATSUNE MIKU"*1 so that you can enjoy 360-degree real image overlayed with "Hatsune Miku" 3D model. In addition, this product will include special goods in the form of a "dog tag key holder" (printed with serial number up to the first 3,939 units) and a exclusive color "ABITAX special case" in an exclusively designed decorated box. The dog tag key holder and the decorated box come with the special illustration by the illustrator fuzichoco, which is only available with this product, making this a special package.
The product can be ordered from the special website, starting from Friday, September 1.
At the Makuhari Messe (Mihama-ku Chiba city, Chiba) from September 1st to 3rd, we will also be showcasing the product at a Ricoh booth during the "Hatsune Miku Magical Mirai 2017" exhibition event, where you can experience the creative culture of "Hatsune Miku". At this event, there will be a special offer*2 of 117 units (39 units per day for 3 days).
*1:Only 360-degree images shot with the RICOH THETA SC Type HATSUNE MIKU can be imported into the 360-degree image editing app "RICOH THETA Type HATSUNE MIKU" (iOS version and Android version).
*2:A special tote bag with fuzichoco's illustration will be attached as a special gift for cameras sold during the special offer at Magical Mirai 2017.
* Please check the special website for the latest information of this product.
RICOH THETA SC Type HATSUNE MIKU special website
https://miku.ricoh/
New product RICOH THETA SC Type HATSUNE MIKU main features
・An original design of "Hatsune Miku" printed on a camera body which is exclusively painted in blue green
・The power button LED which adopted the pink color unique to the limited model
・"Hatsune Miku" original shutter sound through cooperation with Crypton Future Media, Inc.
・Includes "dog tag key holder" with the special illustration of "Hatsune Miku"
・Includes ABITAX special case with exclusive color (blue green)
・Exclusive decorated box with special design
*The camera specification is the same as "RICOH THETA SC".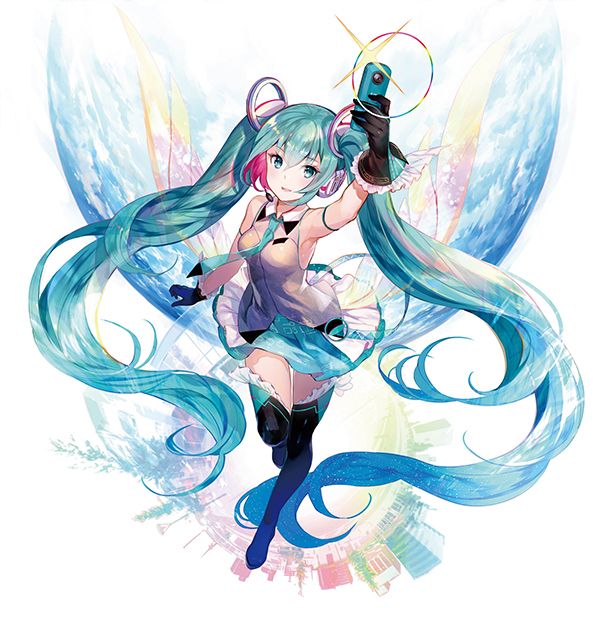 illustration by fuzichoco © Crypton Future Media, INC. www.piapro.net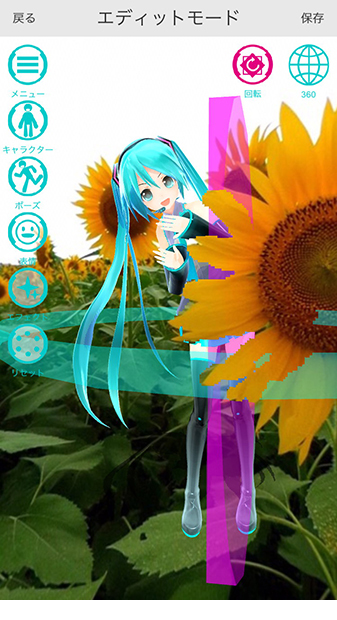 3D modeled by Mamama © ANGEL Project © Crypton Future Media, INC. www.piapro.net

About Hatsune Miku
A virtual singer software character developed by Crypton Future Media, Inc. which can be used to make everyone sing after inputting the song lyrics and melody. "Hatsune Miku" was released in 2007 and attracted attention as a "character" and is currently active on many levels such as in goods development and performing live as a virtual singer.
Official website
https://piapro.net/pages/character
♦ Hatsune Miku and its logo are trademarks of Crypton Future Media, INC., registered in Japan and other countries.
♦ All other brands or product names mentioned herein are trademarks or registered trademarks of their respective companies.
♦ Designs and specifications are subjects to change without notice.
Specifications
Object distance
Approx. 10cm to infinity (from front of lens)
Shooting mode
Still image: Auto, shutter priority, ISO priority,Manual *1, Video: Auto,
Exposure control
Program AE, ISO Priority AE、Shutter Priority AE、Manual Exposure
Exposure compensation
Still image: Manual compensation (-2.0 to +2.0EV, 1/3EV step)*1
ISO sensitivity
(standard output sensitivity)
Still image: ISO 100 to 1600, Video: ISO 100 to 1600
White balance
Still image: Auto, outdoor, shade, cloudy, incandescent lamp 1, incandescent lamp 2, daylight color fluorescent lamp, natural white fluorescent lamp, white fluorescent lamp, light bulb color fluorescent lamp*1,
Video: Auto
Shutter speed
Still image: 1/8000 sec. to 1/8 sec.
Still image(Manual):1/8000 sec. to 60 sec.
Video(L): 1/8000 sec. to 1/30 sec.
Video(M): 1/8000 sec. to 1/15 sec.
Recording medium
Internal memory: Approx. 8GB
Number of photos that can be recorded, time*2
Still image: Approx. 1600(L), Approx. 9000(M)
Video (time per recording): Max. 5 minutes*3、
Video (total recording time): Approx. 63 minutes(L),Approx. 171 minutes(M)
Power source
Lithium-ion battery (built in)*4
Battery life
Approx. 260 photos*5
Image file format
Still image: JPEG (Exif Ver. 2.3), DCF2.0 compliant, Video:MP4 (Video: MPEG-4 AVC/H.264, Audio: AAC)
External interface
micro USB: USB2.0
Remote Shutter
CA-3(Option)
Exterior/external dimensions
45.2mm (W) x 130.6mm (H) x 22.9mm (17.9 mm *6) (D)
Weight
Approx. 102g
Lens construction
7 elements in 6 groups
Lens F number
F2.0
Image sensor size
1/2.3 (x2)
Image sensor effective pixels
12MP(x2), pixel count equivalent to Approx. 14M
File size (still images)
L: 5376x2688
M: 2048x1024
File size (videos)
L: 1920x1080/30fps/16Mbps
M: 1280x720/15fps/6Mbps
Communications protocol
HTTP
*1. A smartphone is required to change modes or configure manual settings.
*2. The number of photos and time are guides only. The actual number differs according to the photography conditions.
*3. Automatic shut down if the internal temperature increases.
*4. Charge the battery by connecting it to a PC using the supplied USB cable.
*5. The number of photos that can be taken is a guide based on Ricoh's measurement method (wireless on, one photo taken every 30 seconds and transferred to smartphone). The actual number differs according to usage conditions.
*6. Excluding lens section.
| About Ricoh |
Ricoh is empowering digital workplaces using innovative technologies and services enabling individuals to work smarter. For more than 80 years, Ricoh has been driving innovation and is a leading provider of document management solutions, IT services, commercial and industrial printing, digital cameras, and industrial systems.
Headquartered in Tokyo, Ricoh Group operates in approximately 200 countries and regions. In the financial year ended March 2017, Ricoh Group had worldwide sales of 2,028 billion yen (approx. 18.2 billion USD).
For further information, please visit www.ricoh.com/