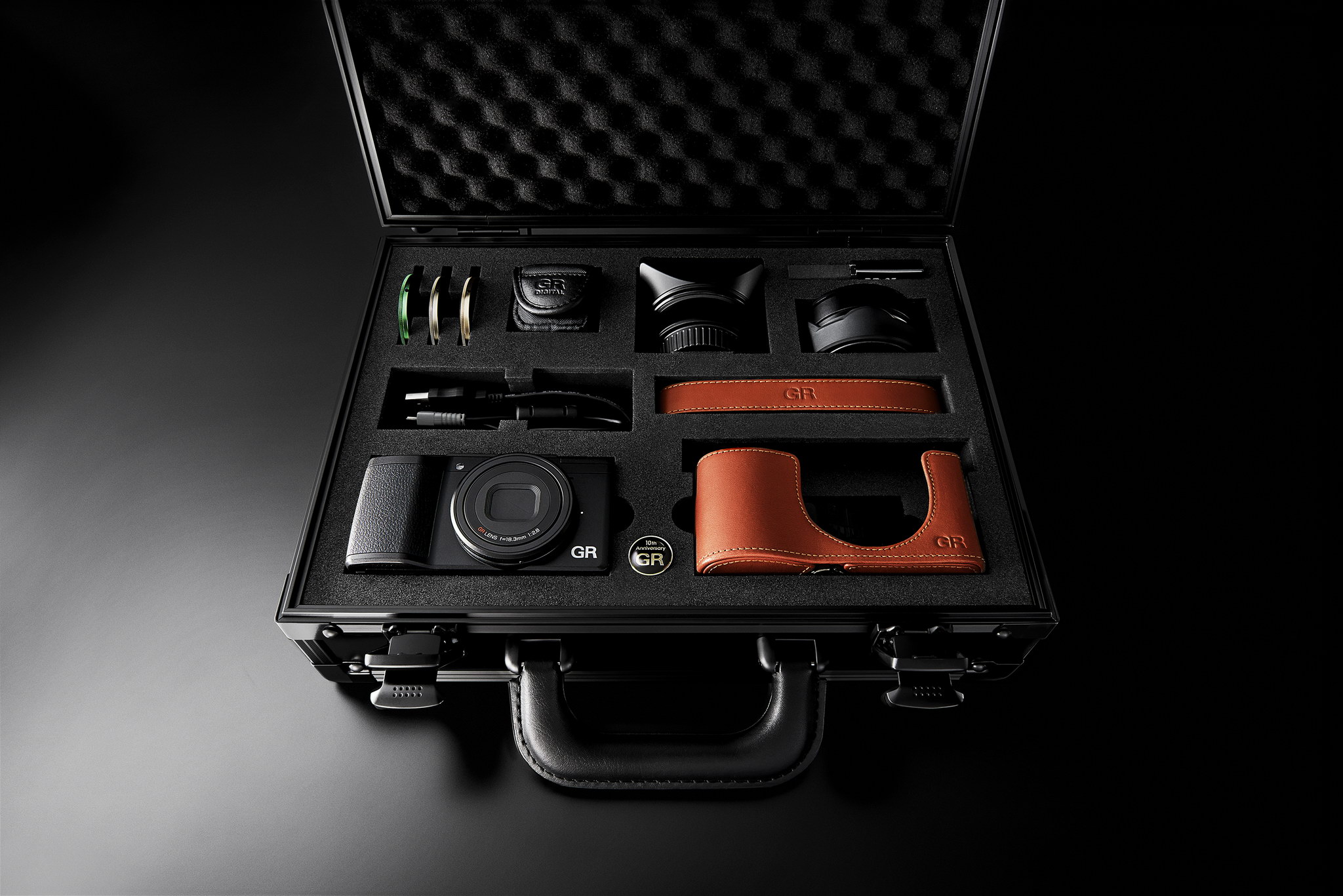 RICOH IMAGING COMPANY, LTD. is pleased to announce the launch of the GR II Premium Kit, in commemoration of the 10th anniversary of the first digital version of the top-of-the-line GR compact camera. The special package features a selection of exclusive items including an aluminum trunk case, a camera case and a commemorative pin badge. It will be marketed in the limited quantity of 1,200 units worldwide.
Product name
Contents
GR II Premium Kit
・GR II camera body*
・O-AT146 Aluminum trunk case
・GV-1 External viewfinder
・GW-3 Wide-angle conversion lens
・GH-3 Hood and adapter
・Three ring caps (green, gold and gunmetal)
・GC-6 Jacket (orange)
・GS-3 Neck strap (orange)
・GR DIGITAL 10th Anniversary pin badge
・The package also includes the following standard camera accessories: rechargeable battery, USB power adapter, USB cable, hand strap, CD-ROM software.
* The specifications of the camera body are identical to those of the GR II standard model.
Main Features
・ Designed to be the ideal size for easy carrying, the aluminum trunk case is treated with black anodized aluminum for the rigid, high-quality appearance of metallic materials, with a special coating applied to repel fingerprints. Its handle is made of genuine leather, meticulously hand-wrapped by a craftsman to provide a perfect fit for the user's hand. The lock mechanism provides a smooth action and a pleasant click when it is opened and closed. Its interior has been conveniently and attractively arranged so the user can store and remove the camera body and accessories easily, while meticulous attention has been paid to every detail down to the thickness and rigidity of the sponge cushions.
・ To accentuate the camera's appearance, three ring caps have been treated with a special anodizing and dyeing process to create three different colors -- green, gold and gunmetal.
・ The camera's jacket and strap are made of high-quality genuine cowskin dyed in orange -- the symbolic color of this limited-quantity package -- so that they stand out among the other black-toned accessories.
・ An exclusively designed pin badge commemorates the 10th anniversary of the development and marketing of the first-generation GR DIGITAL model (launched in October 2005).