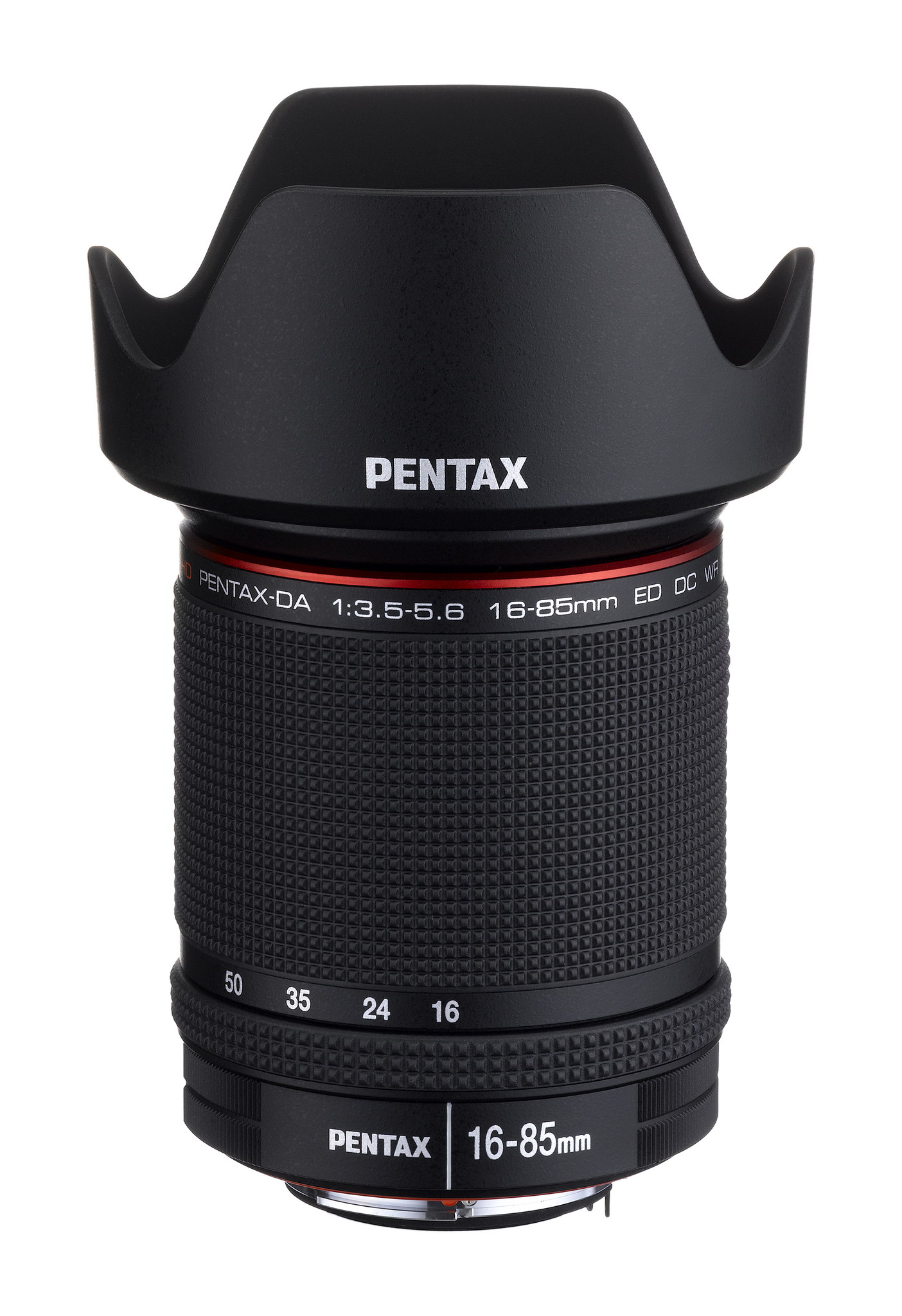 RICOH IMAGING COMPANY, LTD. is pleased to announce the launch of the HD PENTAX-DA 16-85mmF3.5-5.6ED DC WR. Designed for use with PENTAX K-mount digital SLR cameras, this interchangeable zoom lens provides a high zoom ratio of approximately 5.3 times to cover focal lengths from 16mm ultra-wide-angle to 85mm telephoto (for focal lengths equivalent to 24.5mm to 130mm in the 35mm format).
Developed in response to enthusiastic requests from advanced photographers, this interchangeable zoom lens not only provides the high 5.3-times zoom ratio, but it also features: the PENTAX-exclusive HD coating to deliver sharp, clear images even under demanding lighting conditions such as backlight; an ED (Extra-low Dispersion) glass element to effectively compensate for chromatic aberrations; and aspherical optical elements to minimize color bleeding. Its weather-resistant body makes it extremely dependable and durable under demanding outdoor conditions.
1. Versatile, 5.3-times zoom lens covering ultra-wide angles
This zoom lens offers a zoom ratio of approximately 5.3 times to cover the ultra-wide-angle to telephoto ranges (for focal lengths equivalent to 24.5mm to 130mm in the 35mm format). In addition to the most commonly used focal lengths, it provides ultra-wide-angle coverage to produce distinctive, creative visual expressions, such as an exaggerated perspective or an extra-wide depth of field. The versatile zoom lens comes in handy for a wide variety of scenes and subjects, including sweeping landscapes and cramped rooms.
2. Exceptional imaging power to optimize the performance of super-high-resolution cameras
Consisting of 16 optical elements in 12 groups, the lens features one ED (Extra-low Dispersion) glass element and three high-grade aspherical elements to minimize spherical and chromatic aberrations and suppress color bleeding. In order to accommodate a super-high-pixel image sensor installed in an SLR camera body, its MTF (Modulation Transfer Function) curve is programmed to be higher than those of conventional models in the same class to deliver high-resolution, fine-detailed images.
3. HD Coating to improve image description
This lens is treated with the high-grade, multi-layer HD Coating.* Compared with conventional multi-layer coatings, this PENTAX-original coating assures higher light transmittance and less reflection to deliver bright, high-contrast images free of flare and ghost images, even under demanding lighting conditions such as backlight.
* HD stands for High Definition.
4. Quick-Shift Focus system
The lens is equipped with the PENTAX-developed Quick-Shift Focus system, which allows the user to instantly switch to manual-focus operation after the subject is captured in focus by the camera's AF system.
5. Weather-resistant construction
The lens features a dependable weather-resistant construction with eight special seals to effectively prevent the intrusion of water into the lens interior. By pairing it with a weather-resistant digital SLR camera body, it assures a durable, reliable digital imaging system that performs superbly in demanding shooting settings -- even in rain or mist, or in locations prone to water splashes or spray.
6. Other features
・SP (Super Protect) Coating applied to the front surface of the lens to effectively repel water and grease
・Rounded diaphragm to produce a smooth, beautiful bokeh (defocus) effect, while minimizing the streaking effect of point light sources
・Smooth, quiet autofocus operation, driven by the built-in DC motor
Focal Length
16-85mm
(in 35mm format equivalent)
24.5-130mm
Maximum Aperture
F3.5-5.6
Minimum Aperture
F22-38
Lens Construction
16elements in 12groups
Angle of View
83-19°
Lens Mount
KAF3
Minimum Focusing Distance
0.35m (1.15 ft.)
Maximum Magnification
0.26x
Filter Diameter
72mm
Diaphragm Control
Fully automatic
Number of Diaphragm Blades
7
Rounded aperture (16mm: F3.5-4.5, 85mm: F5.6-8)
Aperture Ring
N/A
Tripod Compatibility
N/A
Lens Hood
PH-RBA72
Lens Cap
O-LC72
Lens Case
S90-140
Maximum Diameter x Length
Approx.78mm x 94mm (3.1 inch x 3.7 inch)
Weight
Approx.488g /17.2 oz (with hood Approx.517g /18.2 oz)
Bundle
Hood, Lens cap, Mount cap
Others
HD Coating
SP (Super Protect) Coating
Quick-shift Focus System
Note: Designs and specifications are subject to change without notice.