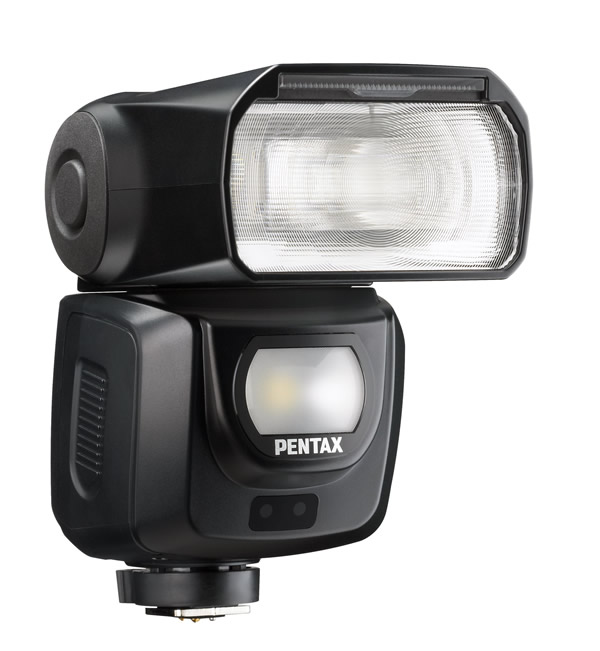 AF540FGZ II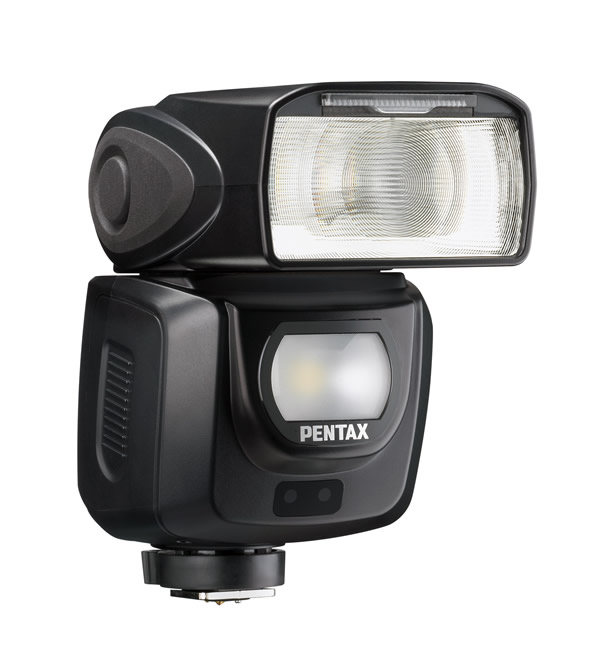 AF360FGZ II 
RICOH IMAGING COMPANY, LTD. is pleased to announce the launch of two weather-resistant auto flash units for PENTAX lens interchangeable digital camera with a maximum guide number of 54 and 36 at ISO 100/m. These units are designed to provide solid, dependable operation even under harsh outdoor conditions including rain and fog.
Dependable weather-resistant construction for demanding outdoor shooting
With 28 seals applied to crucial parts of the unit body including the hotshoe, these flash units feature highly dependable weather-resistant construction. By coupling one of them with a camera body and a lens that feature the same weather-resistant construction, the user can create a highly reliable weather-resistant digital imaging system that assures solid performance even in harsh outdoor conditions, such as in the rain or at locations subject to splashes and dust.
LED light convenient for movie and still-image recording
Both models incorporate a newly designed, high-intensity fixed-light LED light in their body. This white LED light comes in handy not only for close-distance movie recording, but also for still-image shooting requiring extended exposures. It also functions as a catch light in portraiture and an AF assist light in the dark.*
* The AF assist light function is available with 645D, K-r, K-5, K-30, K-5 II, K-5 II s, K-50 camera bodies. The camera's firmware must be updated to the latest version to support this function.
User-friendly function settings
The user can customize the flash operation by presetting as many as nine different flash functions to their preference, including the on/off of the catch-light function using the LED light and the choice of the flash discharge mode in still-image shooting.
Versatile flash control system
Both models provide a variety of flash discharge modes,** ranging from the advanced P-TTL auto flash mode in which the flash's preliminary emission is detected by the camera's light sensor to accurately control the main discharge level for proper exposure, to manual flash, high-shutter-speed synchronization and wireless P-TTL auto flash.
**Available flash discharge modes may vary depending on the camera body in use.
Other features
I. Bounce flash function, adjustable to angles of -10 to 90 degrees vertically and up to 180 degrees horizontally
II. Power-zoom flash to cover angles of view from 24mm to 85mm lenses (in 35mm format)
III. Built-in wide-angle panel that slides out to cover 20mm angle of view (in 35mm format)
IV. Automatic setting of discharge angle in combination with a PENTAX lens-interchangeable digital camera body
V. Multi flash emission function available
VI. Shorter battery recharge time, in comparison to conventional models
Type
Clip-on, P-TTL auto zoom flash unit with series control
Flash modes
P-TTL auto, manual, multi, wireless (P-TTL/Manual)
Flash Coverage Angle
Horizontal Coverage:31°~78°(*Wide-angle panel used 98°)
Vertical Coverage:23°~60°(*Wide-angle panel used 85°)

Bounce flash
Vertical and horizontal bounce possible, click stops provided
*lock provided at 0°
Rightward: 0°, 30°, 60°, 90°, 120°, 150°, 180°
Leftward: 0°, 30°, 60°, 90°, 135°
Upward: 0°, 30°, 45°, 60°, 75°, 90°
Downward: 0°, -10°
Guide No.
AF540FGZ II: Maximum 54 (ISO 100/m).
AF360FGZ II: Maximum 36 (ISO 100/m).
In manual mode, nine-step adjustment from M1/1 to M1/256
ISO range compatibility
P-TTL: ISO25~1600
AF spot beam
LED white beam emitted under low light or low-contrast conditions
Effective range: Approx. 1 m - 7 m *According to our testing conditions
Recycling time,
Total number of flashes
AF540FGZ II
I: Approx. 5 sec., Approx. 200, *AA Alkaline (LR6)
II: Approx. 5 sec., Approx. 350, *AA Lithium (FR6)
III: Approx. 3 sec., Approx. 250, *AA Nickel-Metal Hydride (Ni-MH: 2500mAh)

AF360FGZ II
I: Approx. 2.5 sec., Approx. 250, *AA Alkaline (LR6)
II: Approx. 2.5 sec., Approx.440, *AA Lithium (FR6)
III:Approx.1.5sec., Approx. 300, *AA Nickel-Metal Hydride (Ni-MH: 2500mAh)
Multi flash
Number of the flash : 2 - 100, flash frequency : 1 - 200 Hz
Wireless flash
Control system: Optical pulse transmission
Wireless position: Master (M), Control (C), Slave (S)
Channels: 1 to 4
Compatible modes: P-TTL, manual (M)
Effective range: Approx.4m *When set to SL1
*According to our testing conditions
Flash sync modes
Leading curtain sync, Trailing curtain sync, Contrast control sync,
High-speed sync
Function Menu
Fn1:Catchlight (LED beam), Fn2: AF Spot Beam, Fn3: LED Beam Mode, Fn4: Channel, Fn5: Slave Mode, Fn6: Flash Output Compensation, Fn7: Auto Power Off, Fn8: LCD Panel Illumination, Fn9: Flash Range
Power source
Four AA batteries, (Alkaline (LR6), Nickel-Metal Hydride (Ni-MH), or Lithium (FR6))
Dimensions
AF540FGZ II: 76 mm (W) × 113 mm (H) × 108 mm (T) (3.0'' × 4.4'' × 4.2'')
AF360FGZ II: 68 mm (W) × 111 mm (H) × 106 mm (T) (2.6'' × 4.3'' × 4.1'')
Weight
AF540FGZ II: Approx. 350 g (12.3 oz.) without batteries
AF360FGZ II: Approx. 290 g (10.2 oz.) without batteries
♦Design and Specifications are subject to change without notice.