RICOH THETA wins Camera Journal Press Club Award of
Camera Grand Prix 2014
RICOH IMAGING COMPANY, LTD. is pleased to announce that the RICOH THETA has won the prestigious Camera Journal Press Club Award of the Camera Grand Prix 2014 in Japan. First launched in November 2013, the RICOH THETA is the world's first imaging device capable of capturing fully spherical images around the photographer with a single shutter release.*
The Camera Grand Prix is hosted by the Camera Journal Press Club of Japan, whose members are the editorial staff of Japan's 10 major camera/photographic journals (as of May 2014). Each year, the club selects the most prominent still cameras from all related products launched during the previous year, and honors them with awards. The Camera Journal Press Club Award conferred to the RICOH THETA is one of the four awards in the Camera Grand Prix. This award is selected by Camera Journal Press Club members from all camera/photographic products and accessories (excluding the Grand Prix winner), and is presented to the most distinguished product in terms of popularity, public interest and innovation.
The selection committee of the Camera Grand Prix 2014 was made up of 52 judges, including the members of the Camera Journal Press Club of Japan, editors (or representatives) of member publications, academic experts, technical writers and professional photographers.
* The world's first consumer product capable of capturing fully spherical images with a single shutter release, rather than panoramic or semi-spherical images (based on RICOH IMAGING research, as of April 2014).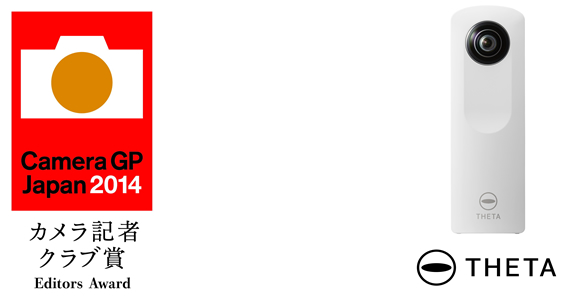 Criteria for the selection of the RICOH THETA as Camera Journal Press Club winner This product is highly innovative in its concept and well beyond the conventional category of cameras. The photographer can effortlessly capture fully spherical images with a single shutter release, and can even post and share captured images on the Internet. It provides an entirely new visual expression which no other digital compact camera or smartphone has succeeded in capturing, and offers totally new possibilities as a communications tool.